The Amazon Way of Writing
How to write clearly and influence people
You may know that Amazon has a no powerpoint rule. In the 1997 letter to the shareholders (which we strongly recommend you read), Bezos shared -
"We don't do PowerPoint (or any other slide-oriented) presentations at Amazon," Mr Bezos wrote. "Instead, we write narratively structured six-page memos. We silently read one at the beginning of each meeting in a kind of 'study hall."
Explaining why the employees read the memos at the meeting, the Amazon boss said busy executives "like high school students" often "bluffed" their way through so this was his way of ensuring everyone was on the same page - literally.

Mr Bezos admitted the quality of the memos varied widely. "Some have the clarity of angels singing. They are brilliant and thoughtful and set up the meeting for high-quality discussion. Sometimes they come in at the other end of the spectrum."
Calling it the "weirdest meeting culture," he joked that new executives were often in for a culture shock while attending their first meetings at Amazon. Instead of passively listening to dull PowerPoint presentations, everyone sits silently for 30 minutes and reads a "six-page memo that's narratively structured with real sentences, topic sentences, verbs and nouns... not just bullet points." Its contents are then discussed in detail.
How Amazon Executives Structure Their Communication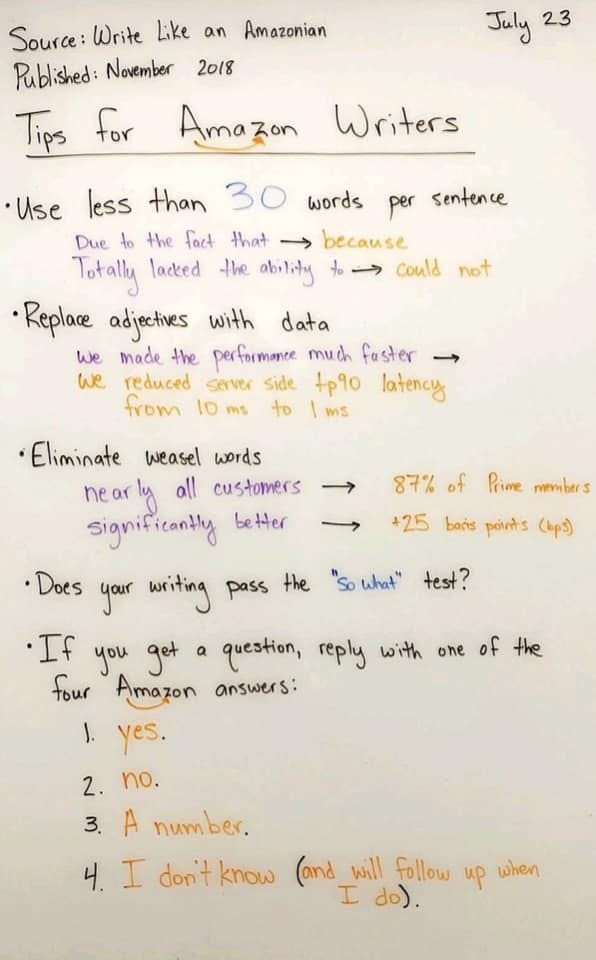 Each of these points merits deep reflection:
Use less than 30 words per sentence: Remove all fluff, long-winded sentences. Short and crisp sentences are what you should strive for. Once you master the craft of clear communication, feel free to experiment.

Legend has it that Ernest Hemingway once wrote a 6 word short story. Check it out - "For sale: baby shoes, never worn."

Replace adjectives with data: Good writing paints a specific picture in your mind and nudges you to think. Vague writing characterized by excessive use of adjectives confuses the reader.

Eliminate weasel words: Remove fluff and wage a war on wasting words to make a point

"So What" Test: Good writing is self-explanatory. The reason why people need a barrage of meetings and conference calls comes down to poor communication and suboptimal writing. Remember the New Yorker cartoon?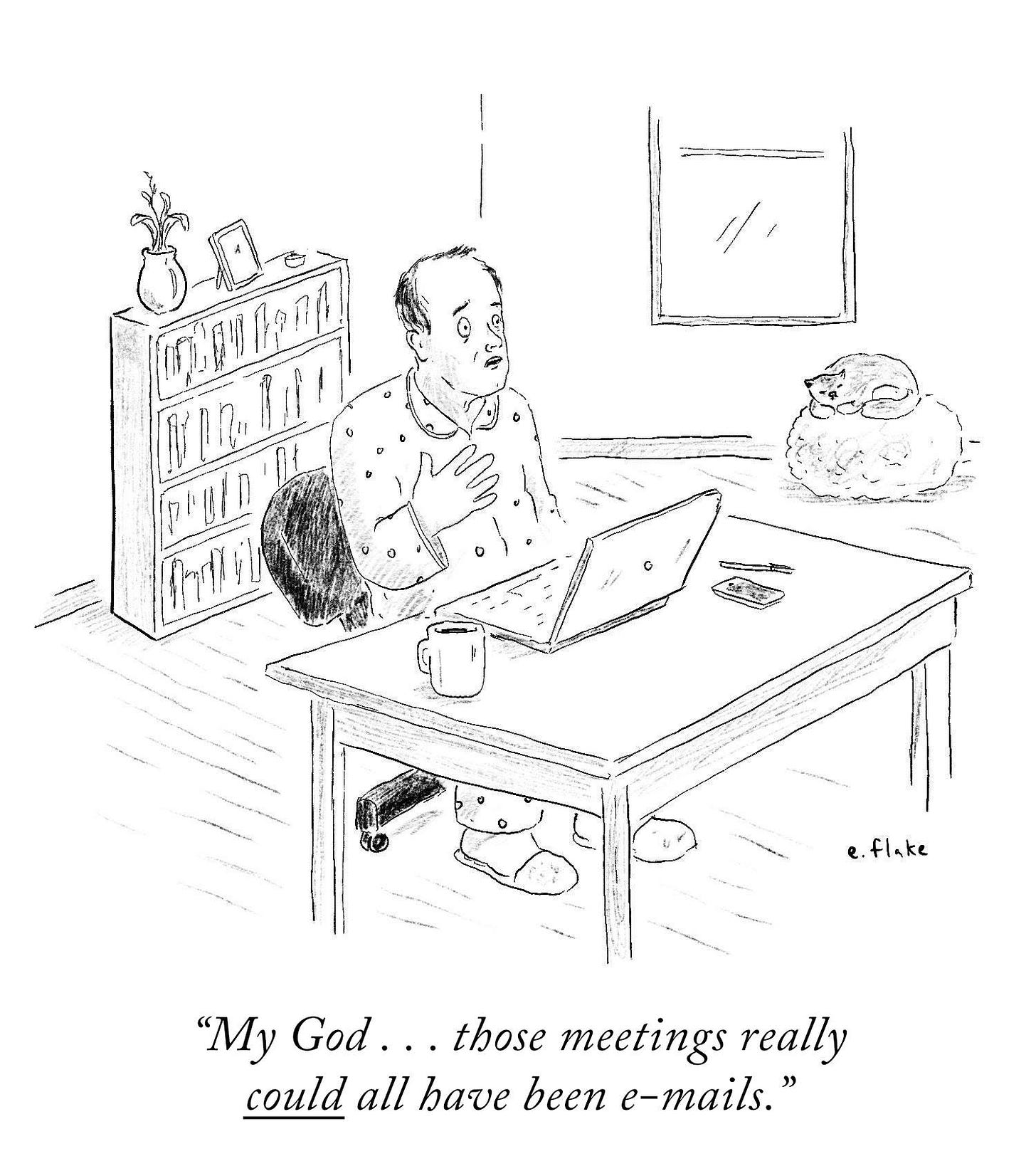 Those meetings really could have been emails if we wrote well.

If you are making a nuanced point, it should typically communicate everything that the reader needs to know without inflicting her with unnecessary jargon.

Replying clearly: Don't confuse the reader, don't confuse yourself. Reply with

a. Yes

b. No

c. Number /Specific insight (never with let us have a call — the outcome of a meeting/email is never a meeting/email)

d. I don't know
If you want to signup for the writing subgroup and watch the masterclasses on writing, subscribe to Network Capital TV
Wish you a great week ahead.
Your Network Capital Team
Join Network Capital Insider | Signup for office hours
P.S. Being an insider gives you free access to daily office hours